RIFTING
After months of fumbling over just how to encapsulate her signature technique, Kimberlie finally settled on the term "rifting", meaning to form fissures, cracks or breaks. Her complex creative process aims to create surfaces with countless, undefinable, paint-thirsty ravines that ultimately transform everyday shapes and elements of architecture into  extraordinary nonpareils. 
Each sculpture foundation is prepped with a combination of sandpaper, wire-brushes, scrapers, bricks, and stones to create an irregular surface. Crude materials for roughcasting, including plasters mixed with gel pumice, sand, dried paint, and pulverized tile, are layered on and manipulated with spatulas and then force-dried, slowly giving a disheveled personality to the piece.
This layering and drying process is repeated multiple times, during which elements like grapevine, metal, rusted nails, feathers and authentic stones are embedded and integrated. Conversely, Kimberlie may take to a hammer or brick to chip away pieces or create even greater flaws. The result: a canvas of extreme, unpredictable fissures, peaks, and valleys thirsty for color.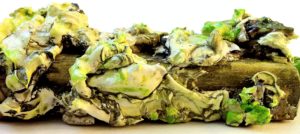 As a devotee to Pollock's unbridled method of madness and Klimt's unapologetic use of bold pigments, Kimberlie brings each piece to life with multiple deposits of acrylic paint and ink applied with spatulas, droppers and brush-splattering. Finally, lacquer seals the work and adds long lasting protection from the elements.
Admirers have compared the finished work to famed abstract expressionist John Chamberlain. Each piece is a true original, not to be duplicated, and indeed a labor of love… signed, dated and titled.
..